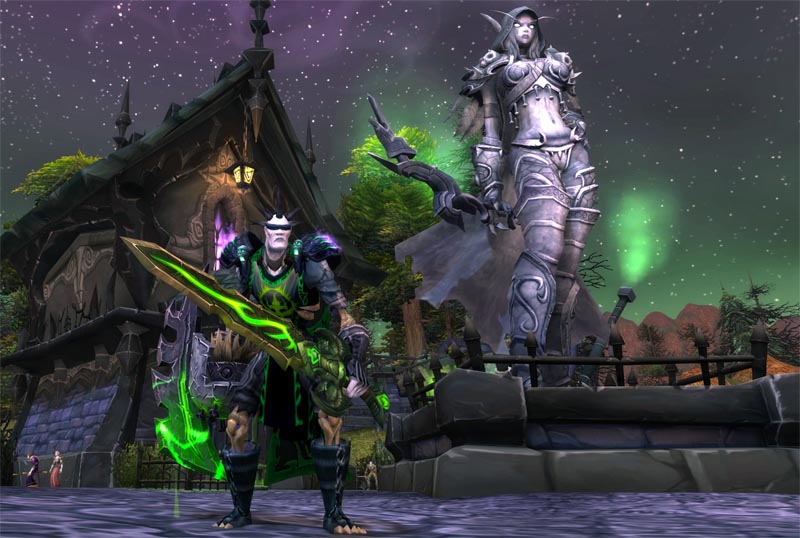 In honor of Legion our very first transmog is by Terrorskull whose guild updated their Guild Tabard in anticipation the the upcoming expansion. Terrorskull designed a transmog to fit with the Legion theme and was generous enough to share the details. One of the neat things about this transmog is the variety of weapons that work with it; it truly becomes a mog that will work with every spec. Terrorskull went all over creation to obtain these items so expect to be running plenty of old content if you want to replicate his look. Obviously not everyone's guild will have a conveniently Legiony tabard so we've included a few alternative options for both the tabard and cloak.
Head: Cursed Vision of Sargeras – Illidan Stormrage in Black Temple
Shoulders: Shoulderpads of the Monolith – Kologarn in Ulduar
Back: Cloak of Coordination – Sold by guild vendors
Chest: Tunic of Assassination – Pathaleon the Calculator in The Mechanar
Tabard: Guild Tabard – Sold by tabard vendors
Hands: Handgrips of Assassination – Aeonus & Temporus in The Black Morass
Waist: Belt of the Twilight Assassin – Sold by Valerie Langrom in Dalaran
Legs: Leggings of Assassination – Murmur in Shadow Labyrinth
Feet: Scouting Boots – Level 20 zone drop. Check out similar models for low level quest reward options.
Sword: Fang of Twilight – Valiona & Theralion in The Bastion of Twilight
Fist Weapon: The Bladefist (Normal) – Kargath Bladefist in Highmaul
Dagger: Shard of Azzinoth – Illidan Stormrage in Black Temple
Bonus Weapons: The Twin Blades of Azzinoth – Illidan Stormrage in Black Temple
Alternative Tabards:
Alternative Cloaks:
---
If you have a transmog that you just love and would like to share, please send the following to fans@ravenholdt.net for a chance to be featured:

a list of the items that you used for your transmog. If you can, include where you acquired each piece.
one or two nice high-res screenshots. These should be reasonably close up and not too dark. No stealth pics please!
tell us a bit about what you were going for with your look. Do you have a name/title for your transmog?
if you would like to be credited, please include a link to your armory and your Twitter handle if you have one.

Please note that we may not be able to feature every submission and those that are selected may not be posted immediately. We look forward to seeing more of what you wear!