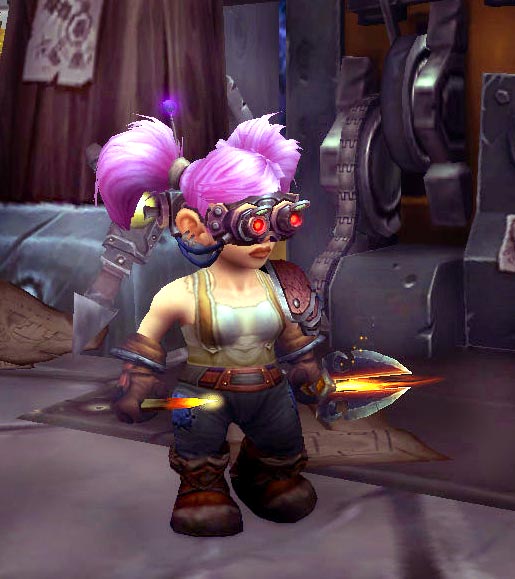 Ieatpaperbag puts us in a setting with an engineering transmog that looks as battle effective as it is totally at home in the workshop. A choice of weapons makes this a truly practical and utilitarian outfit.
"I was going for an engineering look; the engineering goggle for Warlords of Draenor" looked so awesome, so I wanted to see if I could find a "look" to go with it. I also wanted to find something different that wasn't simply all tier xx," Ieatpaperbag explains and notes that he made heavy use of an old blog post by Anne Stickney, now of Blizzard Watch, which you can find here: Transmogrifying a tribute to engineering.
Helm: Night-Vision Mechshades – Soulbound from Engineering. There are some non-engineering (but less cool) options such as Mimiron's Flight Goggles or Emerald Beholder Eye.
Shoulder: Shoulder of the Ogre-Nabber – This is a reward from a Feralas quest. If you've completed the quest check for similar models.
Chest: Mixologist's Tunic – Plugger Spazzring in Blackrock Depths.
Hands: Safecracker's Gloves – random drop from Cataclysm instances (check the AH).
Belt: Belt of Feigned Joy – quest reward from several level ~40 quests.
Legs: Light Leather Pants – Leatherworking.
Feet: Boots of the Neverending Path – purchased from Veteran Crusader Aliocha Segard (Argent Crusade) in Icecrown.
Weapons:
Peacekeeper Blade – Confessor's Cache or Eadric's Cache in Trial of the Champion.
Sorthalis, Hammer of the Watchers – XT-002 Deconstructor in 25 hard-mode Ulduar.
Aledar's Battlestar – Eadric's Cache in Trial of the Champion.
Flarethorn – Gorosh the Dervish or High Justice Grimstone in Blackrock Depths (awful to farm but pretty worth it)
Ravenclaw Harbinger – random world drop from Mists of Pandaria (check the AH)
| | | |
| --- | --- | --- |
| | | |
---
If you have a transmog that you just love and would like to share, please send the following to fans@ravenholdt.net for a chance to be featured:

a list of the items that you used for your transmog. If you can, include where you acquired each piece.
one or two nice high-res screenshots. These should be reasonably close up and not too dark. No stealth pics please!
tell us a bit about what you were going for with your look. Do you have a name/title for your transmog?
if you would like to be credited, please include a link to your armory and your Twitter handle if you have one.

Please note that we may not be able to feature every submission and those that are selected may not be posted immediately. We look forward to seeing more of what you wear!