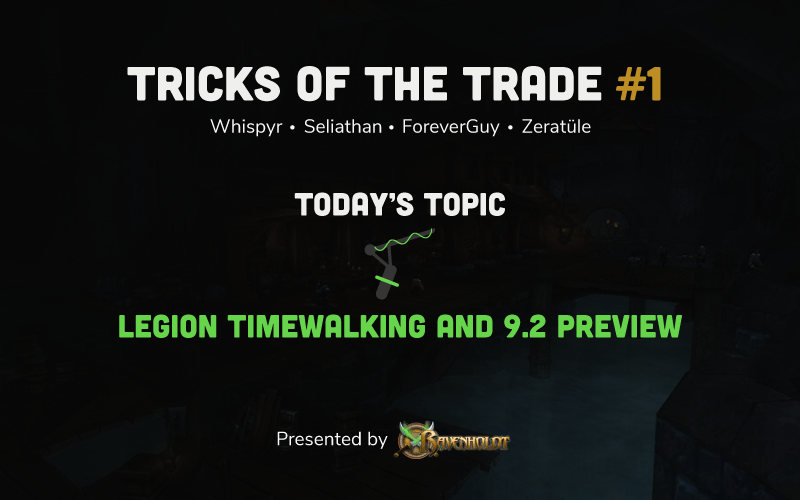 The pioneer episode of the new Ravenholdt podcast. Hosted by Whispyr with contributions from ForeverGuy and Seliathan, and special guest for the first episode: Zeratule, The Red Rogue. In this episode our speakers discuss legion timewalking m+, the mage tower, the new tiers sets and more!
The first ever episode had an amazing turnout peaking at nearly 300 live listeners between the Stage Channel in Discord and Whispyr and Seli's streams. We had a lot of feedback, questions, and comments about the podcast that we will be taking into account moving forward with future episodes. So please utilize the #community-questions channel in the Discord so that our hosts and guests can discuss topics that matter to you. Remember, this podcast was created on the idea that it is FOR Rogues, BY Rogues. 
Links to Listen:
Follow this episode's contributors on Twitter/Twitch/YouTube:
---
A podcast where you can listen to some of the best rogue players in World of Warcraft discussing the class. We will be hosting discussions about upcoming changes, raids, mythic plus, and more with regard to how it affects Rogues. We can be found live on discord @ https://discord.gg/ravenholdt, so come learn the tricks of your trade. Tricks of the Trade is Ravenholdt's community podcast that is aimed at being "By Rogues, For Rogues". If you are interested participating or even asking questions, please join the discord server and contribute in the appropriate channels! Follow us on Twitter @Ravenholdt.