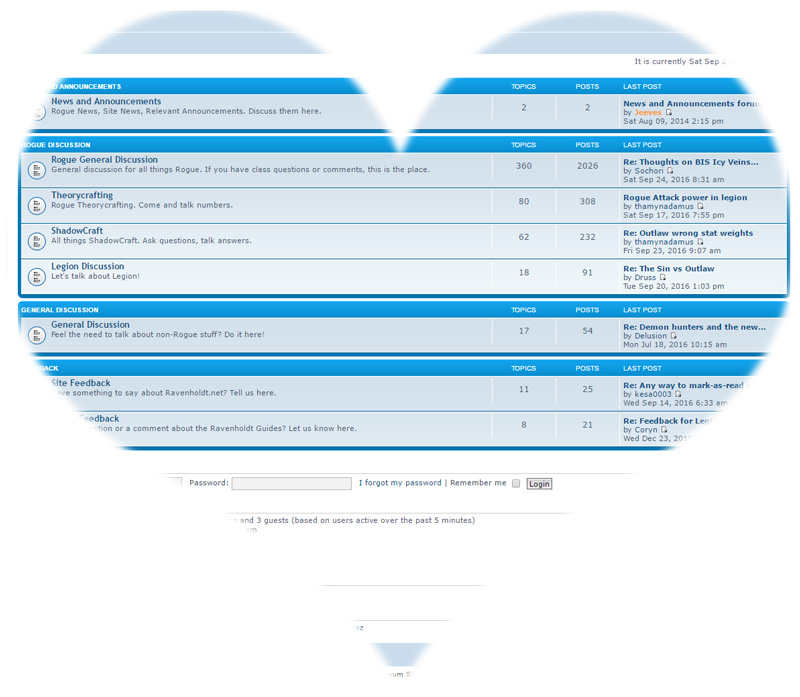 There was a time, eons ago in the gaming universe but only a few years as the Earth spins, when the only real place worth having a good conversation about the rogue class — or about WoW in general — was in a forum. Whether it was in Blizzard's official forums, MMO-Champion, Elitist Jerks, Arena Junkies or one of the small handful of other online WoW communities, if you had a question you wanted answered, a person you wanted to help, a point you wanted to make or a bridge you wanted to troll under, you posted in a forum thread or you didn't get noticed.
When we launched Ravenholdt (the site) two years ago — our birthday is Sept. 27, celebrate by stabbing a pixel you love! — that reality was already beginning to change. Ravenholdt itself was an IRC chat channel before it was a full-fledged fansite. Twitter was already one of the primary ways that players talked directly with game devs and community managers. And platforms like Youtube, Twitch, and Facebook were shifting the conversation away from forums.
Long story short: We're taking our forums offline. 🙂 Instead we're directing our time and attention where we think it'll be the most useful and engaging: our Discord.
Fierydemise just finished a complete overhaul of our Discord channel organization; you can see a rundown in the #welcome channel, but here's how we're laying things out:
#resources-and-faq: Moderator and theorycrafter vetted resources that should answer a lot of basic questions. Please look here for an answer to your questions before asking it in the other channels.

#simple-questions: Simple questions. Please check the guides before asking.

#general: Discussion of any and all things rogue not covered by the other channels. Jokes and memes are acceptable but please don't spam like crazy.

#general-moderated: Just like #general but for people who prefer a slower and more substantive conversation.

#theorycrafting: Math, models, simulations. This is not a place for questions about stat priorities. Simple questions and useless comments will be deleted.

#shadowcraft: Questions, bug reports and discussion related to ShadowCraft. This is not a place for general questions or questions related to other tools.

#transmog: Discuss which massive shoulders look best.

#pvp: Blame Holinka.
As part of this overhaul, we've also brought aboard several lovely, helpful and appropriately vicious moderators who have volunteered to help keep our Discord convos civil, productive and rule-abiding:
aneuryzm9

gray_hound

Mich

Sativ

Sensia

Stjern

Tykho

VeryRare

Vigi

Xaryen

zyZ
If you've posted (or read) anything in the Ravenholdt forums you love and want to save, now's the time to grab it; we'll be taking them offline within the next several days.
As the devs like to say, we'll keep iterating on Discord as time goes on; please help us out by providing feedback! Thank you for reading, and for being part of our fantastic community of thieves, assassins and ne'er-do-wells.