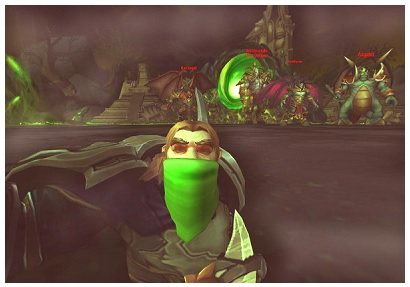 Rogues are often reviled as masters of deception and cheap tricks, that shadow that ganks you from stealth, that master of the shadowstep and the stun lock. Not all rogues are bad, however. In fact, though we say it ourselves, rogues are some of the nicest and most generous people we have ever met. Case in point, Accomp. Accomp is a member of the Convert to Raid mega guild on Aerie Peak. The requirement to acquire Reins of the Grove Warden (aka. the moose mount) is a Heroic or Mythic Archimonde kill, and Accomp rallied his mythic raid team, Convert to Mythic, and offered a carry to any member of Convert to Raid who wanted it. I was lucky enough to be able to accompany them on the night that they got that moose for their 100th guild member and I asked Accomp a little about what they are doing.
Please tell us a bit about yourself:
Well, I'm Accomp – Dwarf Rogue, guide writer and web developer here in North Carolina. I raid lead for the Convert to Mythic team in the Convert to Raid guild family on Aerie Peak [A]. I started out as a Holy Paladin back in December 2004, but swapped to my Rogue during Wrath launch and never looked back.
What exactly is #ConvertToMoose and how does it work?
#ConvertToMoose is the brainchild of Pat Krane and the Convert to Raid podcast crew. They wanted to get together a group of geared folks in the guild and help out the lesser geared or more casual players we have acquire their Moose mounts via Heroic Archimonde kills. We've got a pool of 36 geared players who have offered to help out every Sunday and we help 6-8 Convert to Raid guild members for each of the 4 Heroic Archimonde kills, with Personal Loot, we complete over the course of an hour and a half. We aren't taking people's gold and haven't enforced any form of gear requirement other than being a level 100 toon in the Convert to Raid guild family. Honestly, we just wanted to do something positive for the community.
Why did you decide to do this?
With the inspiration of Pat and crew's concept, I saw an opportunity to leverage my raid team's current inactive status. We decided to take a break from Mythic raiding back at the beginning of October due to attendance/recruiting issues. We have approximately 5,200 unique accounts in the Convert to Raid guild family, so the potential to give back to the community was quite high. So while being able to give back and help the CTR community, we're also able to stick together as a raid team until we can dive back into Legion testing when the time comes.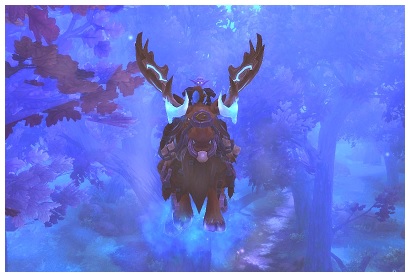 Was your team on board right away or did they take some convincing?
Surprisingly enough, nearly everyone on the team was immediately on board. I think we maybe had 2-3 out of the 21 on our roster that weren't interested, which I was really proud to see. Once you start getting into Mythic progression, it's easy to loose sight of the more casual players in the game and forget that you were there at one point in time. Our Convert to Mythic team continues to impress me, not only with their performance, but with their selflessness each week as they continue to give back to the community without ever asking anything in return. Cheers to each of them!
How many sign ups do you have?
So we've got 36 geared folks signed up (730+ ilvl) to help out each week and 432 CTR guild members signed up to be helped before we decided to disable the signup form for the time being to allow us to catch up. Currently, one month into doing the Moose runs, we've helped out a total of 102 CTR guild members and plan to continue to raise that number after the new year!
Can people still sign up?
Currently, we've got the signup form disabled for our #ConvertToMoose runs, mostly because of the extremely high demand and not wanting to get overwhelmed. We'll consider re-enabling signups once we have a chance to catch up and make a larger dent in our existing signup list after the new year. With that said, there are definitely other teams, both in the CTR guild community and outside of it, that you could reach out to if you were looking to get some help with your Moose. The most notable is probably #FriendshipMoose. Please note, some of these groups may have a gear requirement, so just be sure to read their details first, so you know!
What kind of response have you had from the community?
The feedback so far has been absolutely amazing – even from folks outside of the CTR guild community. I don't think any of us realized the impact this would have on the community and it's definitely made everything worth it. Most of all, I appreciate everyone's patience as we try to work our way through our rather lengthy list of signups and also a huge shout out to those outside of the CTR guild community who have helped out on nights our geared team was short on attendance.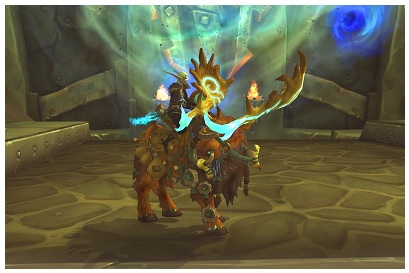 Would you like to tell us a bit about CtR?
Sure! The Convert to Raid guild is an Alliance guild on Aerie Peak, founded in Jan 2013. We've got a handful of guilds linked together via the Greenwall addon. We've got over 5,200 unique accounts with players and raid teams of all varieties, with a focus on "Community, Teamwork and Respect." Whether you're a Mythic raider or a more casual LFR player, there's a good chance you'll find like-minded folks to play with. The guild was created as a community hub for the Convert to Raid podcast, which started back in June 2011. Give the show a listen and come join up with the community!
Thank you, Accomp and all of the mythic raiders who are helping so many people get this mount. This is an awesome act of kindness for those who wouldn't have the resources to do this on their own – it truly is an example of our World of Warcraft community working right.
If you would be interested in joining the Convert to Mythic raid team, Accomp tells me that they are recruiting for Legion Mythic US progression on a two night schedule. This is a great opportunity to jump on board with a lovely, civic-minded progression team. Apply at: Convert to Mythic.
Merry Winter Veil everyone!
Follow Accomp on Twitter at @Accomp
Follow Convert to Raid on Twitter at @CtRGuild
Convert to Raid website: guild.converttoraid.com
Convert to Mythic website: www.ConvertToMythic.com