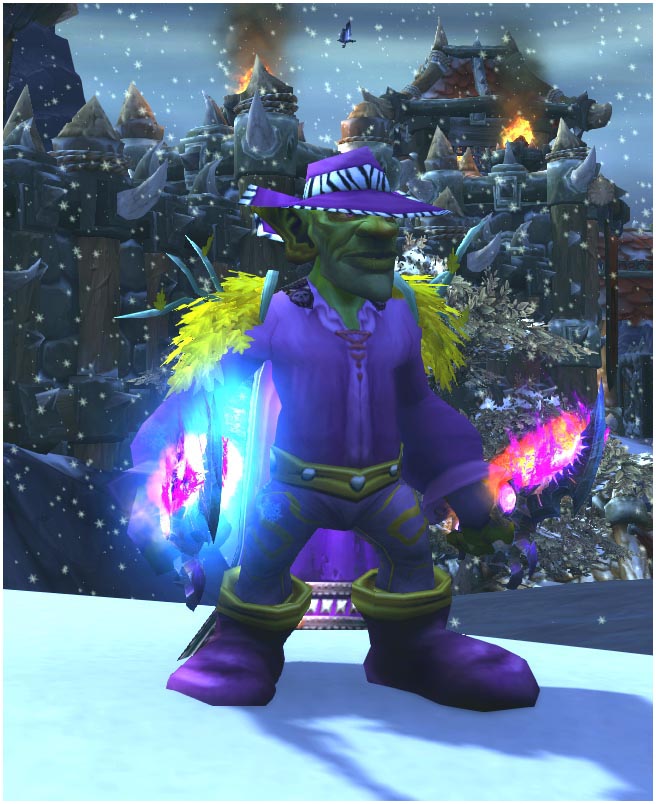 Just because you are a rogue doesn't mean you have to dress all sneaky all the time. Sometimes you just want to be, well, loud. Mickjabber brings us his take on the rogue look with goblin style.
"As you can tell I wasn't really going for the subtle look here, basically I figured a Goblin Rogue would want to look good whilst he slays things, something with a certain amount of panache, something that a small person can make a big impact with!"
Well Mickjabber, you'll certainly make an impact!
This set will take you through low level dungeons, Firelands, and require some good world drop or Auction House luck.
Head: Stylin Purple Hat – Leatherworking
Shoulders: Mantle of Autumn – Laj in The Botanica
Back: Netherfury Cape – Warp Splinter in The Botanica
Chest : Songbird Blouse – Hearthsinger Forresten in Stratholme
Hands: Gloves of the Fang – random drop from Wailing Caverns (check the AH)
Waist : Headhunters Belt – random world drop (check the AH)
Legs : Leggings of the Fang – Lord Cobrahn in Wailing Caverns
Feet: Headhunter Slippers – random world drop (check the AH)
Daggers : Alysra's Razor – Alysrazor in Heroic Firelands
---
If you have a transmog that you just love and would like to share, please send the following to fans@ravenholdt.net for a chance to be featured:

a list of the items that you used for your transmog. If you can, include where you acquired each piece.
one or two nice high-res screenshots. These should be reasonably close up and not too dark. No stealth pics please!
tell us a bit about what you were going for with your look. Do you have a name/title for your transmog?
if you would like to be credited, please include a link to your armory and your Twitter handle if you have one.

Please note that we may not be able to feature every submission and those that are selected may not be posted immediately. We look forward to seeing more of what you wear!