A while (when I started writing this) ago I was considering the latest change to rogues in the 6.2 patch notes:
This got me thinking.  Maybe it's just that I've been preoccupied lately, but I haven't heard much annoyance about talents lately.  Seeing as the last major content patch is nearly upon us I figure it's high time we started revving up the feedback engine.  To kick off my part, here are my thoughts on the individual rogue talents and their tiers.  As always before I start I'd like to make a few things clear:
I am of the opinion that not all talents should viable or even relevant to raiding, so don't expect me to complain about a talent or tier just because someone who only plays this game to raid doesn't feel it caters to their desires.  I am of opinion that some talents should be exceptional for each type of content – solo PvE, world PvP, Arena, BGs, dungeons, and raiding.  Just as important as a diversity in the content each talent or tier caters to is the presence of tough, meaningful decisions.  For what it's worth, I also think it should be substantially more difficult to change talents, because doing so is cheap and takes no skill and therefore removes a lot of the fun and skill from the system.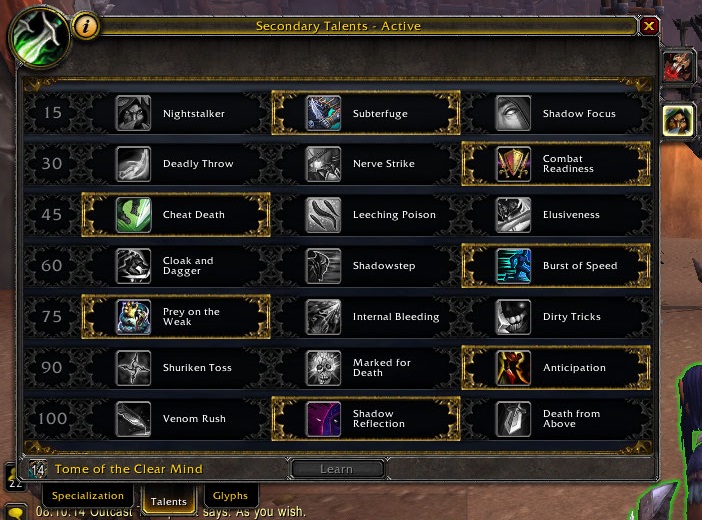 Tier 1 – Stealth
All in all I think this is about what a tier should look like.  It addresses an iconic part of the class in three two and a half different ways and offers options for various different playstyles.  The tier as a whole is relatively low-impact which I wouldn't call good or bad.  In terms of difficult decisions this tier does have the problem of there being a right answer in most situations.  In casual PvE it's the one that gives movement speed, in PvP it is whatever is most effective based on your team/playstyle, and in PvE it's whatever the math tells you is optimal.
Tier 2 – Uh…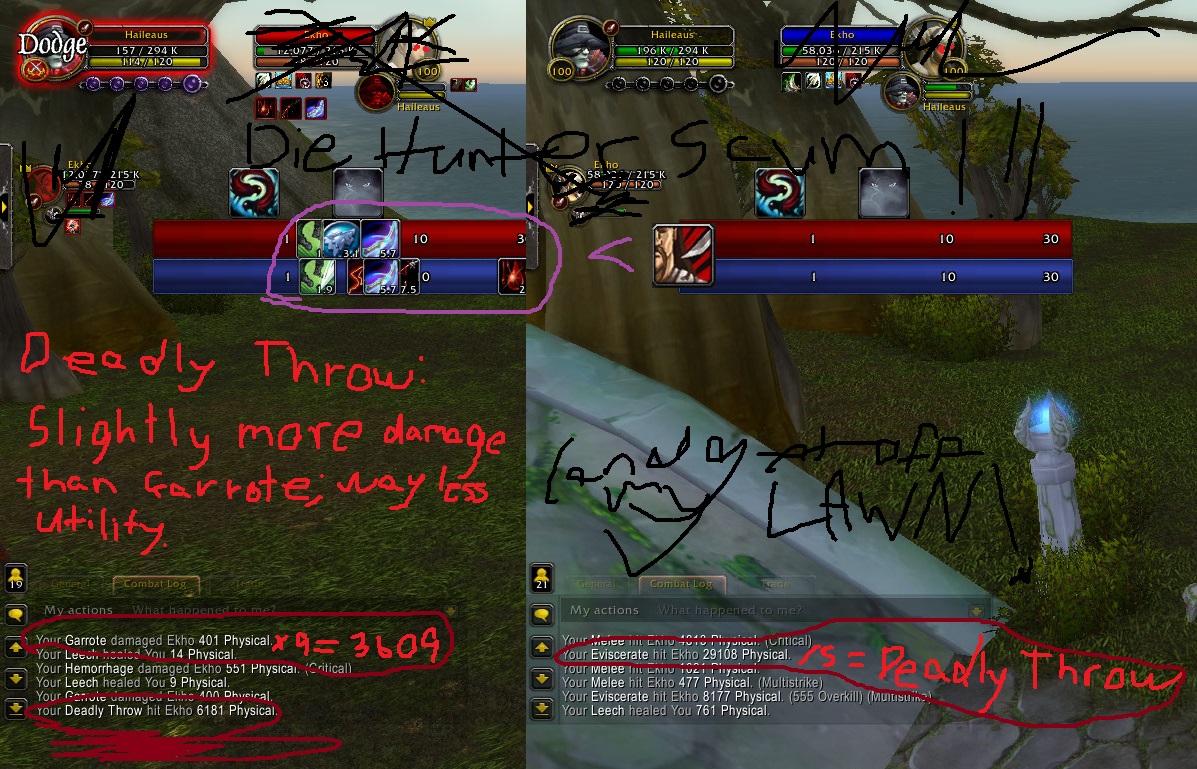 Given that this tier has precisely one talent that isn't terrible I say we start over.  One option is to move Nerve Strike up to another tier and design fresh new level 30 talents.  That option I'm totally down for, but since this is supposed to be a short summary let's assume we keep Nerve Strike.  We could have a tier that reduces the effectiveness of our enemies, which would be very in-line with the flavor of the rogue class.  Alternatively, we could have talents that augment certain aspects of our toolkit – Nerve Strike for stuns, then things for mobility, vanish, or finishers?  Another problem with this tier is that it struggles to find relevance.  It is one of the talents that mythic raiders could reasonably not take any of and still play at 100% capacity.  Solo players are in a similar position, since enemy damage is usually small enough to make our defensive options irrelevant and Deadly Throw continues to be a terrible choice.  It is also worth noting that with the removal of the interrupt no rogue will ever want to take Deadly Throw.
Tier 3 – Defense
Overall this is a good tier.  Too bad our poison system sucks so much.
Tier 4 – Mobility
Given that this tier includes Shadowstep, the tier as a whole is actually very well done.  Between Shadowstep and Burst of Speed competitive rogues have their bases covered, and the fact that our third talent is Cloak and Dagger makes it defensible.
Tier 5 – Crowd Control
This tier is boring.  It has no impact on PvE, and on PvP the interesting talents are the least viable ones.  I guess Internal Bleeding has some decent flavor and I do like that it exists but honestly this tier as a whole has serious issues with relevance on the PvE end and choice on the PvP end.
Tier 6 – CP Management + Shuriken Toss
Tier 6 is a surprisingly problematic tier.  World of Warcraft has (rightly) come to the point where Shuriken Toss is completely unnecessary.  Marked for Derp is a good ability, makes sense as a talent, but is also the all-around most powerful option.  And then we get Anticipation, which is such a huge Quality of Life improvement that people actually take it over a talent that reads "Deal more damage, or even more if there are adds."  So, in conclusion this tier should be Marked for Derp, something to replace Shuriken Toss, and something to replace Anticipation which has just been made baseline in some form or another.
Tier 7 – Cool Stuff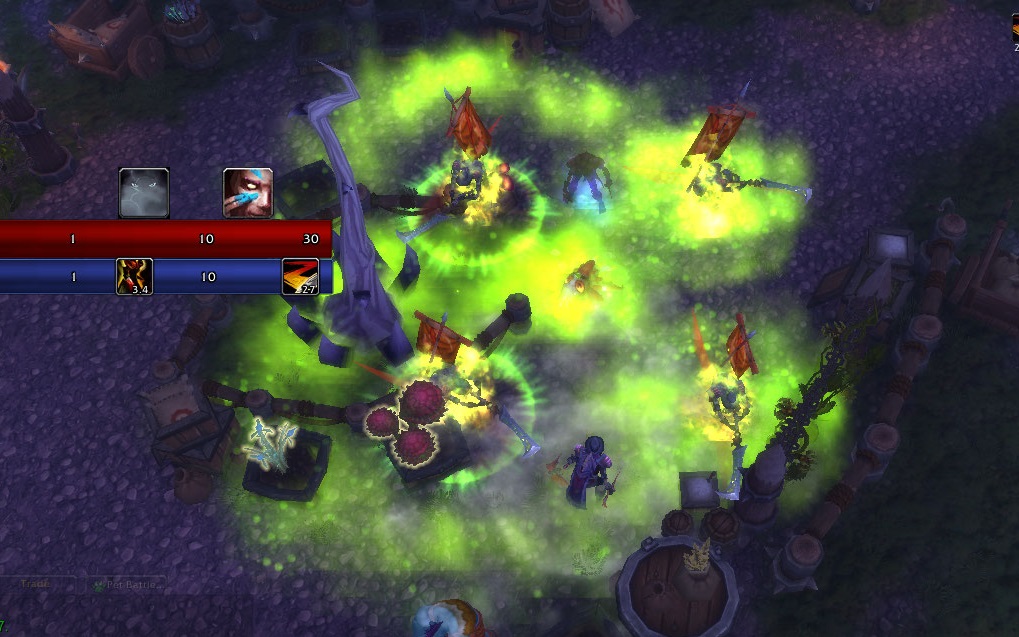 Overall our Tier 7 has one huge problem:  There are three DPS increasing talents on it that do not compete adequately.  Combat rogues use Venom Rush and Subtlety/Assassination rogues use Shadow Reflection, and that's pretty much all there is to it.  Usually in situations where talents compete over the same purpose/niche there are situations where one talent will shine over the usual choice but that's simply not something that we've seen with this tier.
 Anyway, that's all I have to say about talents.  I strung this article out over the course of something like a month so forgive me if it is a bit hard to follow.  Got opinions on talents?  Wanna tell me how awesome I am for writing this post?  Post away on our forums in the discussion thread.
*Of course, it would also be completely fair to trim down the ways classes have of kicking rogues out of stealth in PvP.
**That being the ability to accidentally kill you.  What's that, your Haunted Memento procced when you were sneaking around Stormwind?  Sucks to suck!